Florida (May, 2022) – Nationally recognized trial law firm Colson Hicks Eidson is pleased to announce that attorney Thomas Kroeger has been named partner at the firm.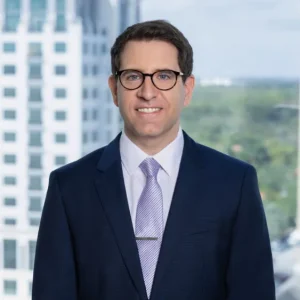 Thomas Kroeger handles a wide variety of complex civil litigation and appeals, ranging from personal injury and product liability matters to complex civil litigation and professional malpractice matters. Prior to joining the firm in 2019, Thomas served for over 8 years as senior attorney for The Florida Bar where he handled novel and complex lawyer regulation cases before the Florida Supreme Court. He also lectured frequently on issues of professional responsibility and ethics. Before that, Tom served as an Assistant Public Defender for the Miami-Dade County Public Defender's Office where he tried over 20 jury trials to verdict. "Tom is a lawyer's lawyer. He brings to every issue the eye of both a problem solver and strategist. He is a stellar advocate, whether it is in the courtroom, in a conference room, or on paper," said Roberto Martínez. Thomas has represented clients in appeals before the Florida Supreme Court, Florida's District Courts of Appeal, and the Eleventh Circuit Court of Appeal. 
Colson Hicks Eidson is a nationally recognized firm with over 50 years of litigation experience. Our legal team has diverse talents and expertise and is skilled at handling international, national, and local litigation in federal and state courts at the trial and appellate level. The Miami-based firm has a long track record of success and has gained a national reputation and respect among our peers throughout the country. We pride ourselves in being true trial lawyers, preparing every case with trial in mind and ready to try any case before a judge or jury. Our partners have extensive trial experience and we have a number of partners who are fellows in the American College of Trial Lawyers or the International Academy of Trial Lawyers. We are excited to bring these new partners to the team, as we know they will help us continue our tradition of excellence. For more information, please visit www.colson.com.